"I just purchased your app. Very clever! ... Bravo and congratulations for coming up with a novel and unique way to teach rhythm."
Peter Erskine
"Mulle Holmqvist has come up with something so simple, it defies intellectual reasoning, pertaining to rhythmic superimposition…"
Dave Liebman
Tuplet Trainer

*** VERSION 1.1 NOW RELEASED ***


"… Mulle has always been a few steps ahead of everyone else and everything he does is amazing stuff. If you are into music you realize that the cultural traditions are all coming together, the future is already happening as we speak, and Tuplet Trainer is one of the hippest things out there."

Sten Höstfält
"… After just minutes of studying, you have acquired your first keys to unlock doors to new polyrhythmic worlds …Truly trailblazing."

Jacob Karlzon
"…It was hard to believe, or even to accept, that all the work developed by serious practitioners through the years could be solved in a 'friendly' way by intuition. Impressive."
Dr. Marcelo Coelho
"Straight into the subconscious – past the conscious…
Mulle's reference rhythm method works as a magic key, opening the door to the subconscious, allowing you to enter a polyrhythmic world where seemingly
'
impossible
'
rhythms are performed with natural ease.
"

Helge Albin
"… Mulle's method makes all rhythmic impossibilities and unavailabilities possible and available to everybody. The technical and advanced obstacles that you overcome with his help are not perceived as obstacles until you look back and realize what you've overcome …

William Larsson
"By using two well-established principles in human learning, the Reference Rhythm Method makes you expand your rhythmic vocabulary almost without you noticing…"
Mats Lekander
– professor of psychology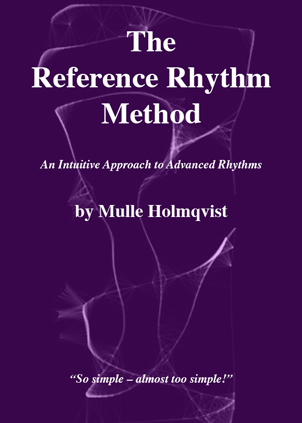 N.B. You can only buy the book here >